Back To Blog
The overhead garage door is the largest moving system in practically any home and requires proper care. One of the main things that owners must focus on is the protection of the system from the elements. This is crucial since the unit is constantly exposed to the damaging effects of the sun, wind, temperature fluctuations and water, in particular.
It All Begins with Garage Door Installation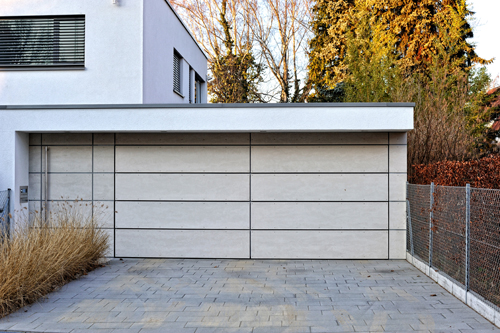 The three main protective measures have to be adopted as soon as the unit is installed. The first one is the addition of a bottom seal. It works to prevent any water on the driveway and the garage floor from reaching the bottom of the door and causing damage, in addition to providing insulation. There are many different types of seals. The most reliable ones are attached with the use of a special retainer. The good news is that most overhead door manufacturers sell their units equipped with both a retainer and a seal.
Perhaps the most important step of all involves painting the panels. No matter whether they are made from steel or wood, they should have a protective coating. Exterior-grade paint suitable for the respective material will do a great job. In general, it is also possible for other types of protective coatings to be used, such as stain for wood. In very harsh environments, it is possible to use car wax for steel panels. In general, when you select a coating you should first check what is recommended by your door manufacturer.
All moving hardware parts from the spring to the hinges and rollers have to be lubricated during the door's installation. This not only helps the smooth operation and reduces friction but it also prevents the components from freezing and malfunctioning during the winter. Keep in mind that annual lubrication maintenance is essential.